on
February 2, 2019
at
12:49 pm
There's a few things that Patch and I keep coming back to for more of in ASL, and looking through the Croix de Guerre scenarios, I spotted one with Vichy French versus Free French in the desert, which hit three of them (desert, French, and Brits), so went for that for our next game. It's actually set in Syria, which makes it related to "Dayan to Meet You", which was an interesting scenario as well.
In this case the Vichy are defending boards 25, 28, and 29 with 10 1st line squads and 3 HS, plus 5 green squads, a HMG, MMG, 37mm INF (so small it's a SW), a MTR, and two 25mm AT guns. There's some Dummies available, and a good number of sangars and foxholes for the relatively open terrain. The Free French have 12 elite squads and 5 HS, a couple MMGs, MTRs, and four H39s. Additionally, there's three British squads (648s) with their own leader, an ATR, and a DC. The Free French need to take the top of the north end of the hill (25BB5) and one of a nearby crag hex (BB8), or a stone building at the bottom of the hill (Y2), in 8.5 turns, while avoiding a 30-point CVP cap, though that can be avoided with more than 25 points of Vichy casualties. Since this is Syria instead of North Africa, while there are some hillocks scattered about, broken terrain (F13.1) is effect, which is a first for me. Sadly, what this does to the boards is affected by the overlays, so we had to tweak the Vassal setup a bit.
Patch took the Vichy French, and set up a very solid network of entrenchments, and used the wadi for more protection. There was some flank protection, and a solid group around the board 25 stone buildings. As the Allied forces can only set up on boards 25 and 29, I didn't do anything with board 28, since getting the armor onto that board would be painful. I set up with two small platoons of armor; one on the hilltop to provide covering fire, and cover to a MMG position, while the other was prepared to provide an armored assault to the British troops as they advanced into range of the stone buildings. Everything else was a fairly solid line at the limit of my setup, with plans to creep forward, and keep the Vichy busy while I flanked and took the buildings before heading up the hill.
…The next time board 25 is involved, Patch gets to attack. It's just a nasty bit of ground to negotiate, and I've attacked it twice now. (Patch suggested "Hill 625" with this in place of board 2. It's a scary thought.)
I had a little prep fire, and revealed a squad in 25X6, but they passed the MC. One hilltop tank Op Fired to observe who revealed himself down below. I had meant to use spotted MTR fire on the area, but I forgot about it as we got going. My second move was over the bridge in 25R1, and Patch revealed his MMG in V2 for a K/1 that broke the survivors. …Patch though started worrying that he'd set up the MMG way too far forward. On the next move, the MMG broke a squad as it moved behind a hedge, and the next the squad passed a NMC as the MMG finally ran out of rate.
Things didn't go much better on top of the hill either. An early move saw a squad break, and another saw a 3KIA from Patch's HMG. The good news was that activated my sniper, who revealed and pinned the squad in Y2, and the HMG's second shot malfunctioned it. However, the armored assault went well with two squads getting closer while, the third 648 and 8-1 worked their way around the hillock. Thankfully, DFPh didn't do anything more, though I found out the INF had a nice position in 25AA2. Advancing Fire started zeroing in on V2, but had no immediate effect, but a lucky shot did break the squad in 29W10.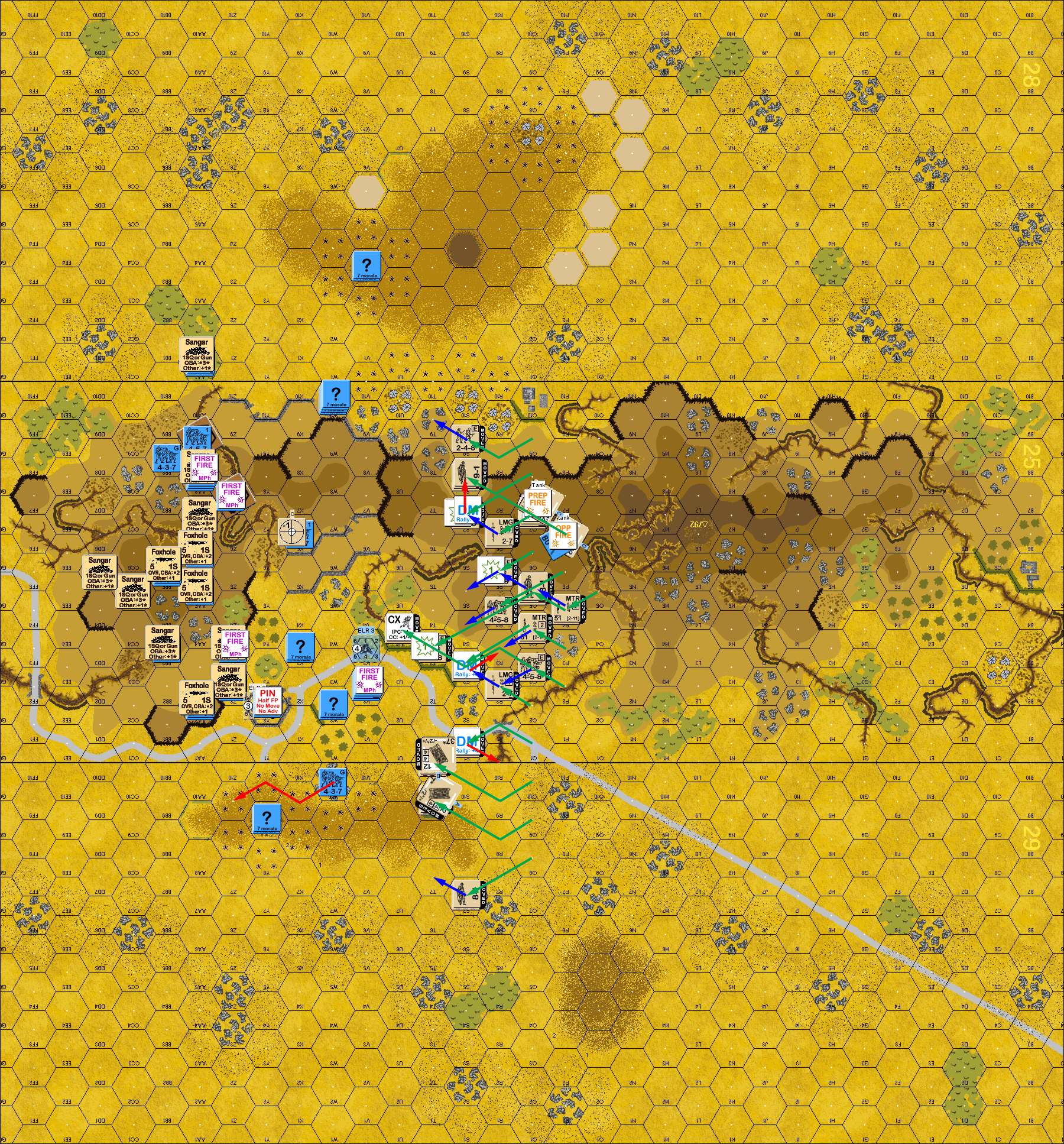 Situation, Free French Turn 1, showing the full board. North is to the left. The 'orchards' are further broken ground, and some extras are covered up on board 28.
↓ Read the rest of this entry…