on
July 27, 2014
at
9:01 am
It was back to the desert for our next ASL adventure, and Patch and I decided to go for scenario 37, "Khamsin", from West of Alamein. Having just been the attacking Soviets in Festung Budapest, I had the defending Brits for this one. There's a Series Replay of the scenario in Annual '90, but neither one of us got around to more than glancing at it.
The British are defending three hillocks as part of a defensive box as the Germans advance on Tobruk with a decent force of infantry with a HMG, a couple ATRs, a couple light MTRs and three LMGs, backed up by 2-pounder ATG, all in sangars and anyone in scrub HIP. The Germans attack with six squads of infantry mounted in halftracks, a Pz IV, six Pz IIIs, two Pz IIs, and a Marder III (this is mid-'42, so these are all early models—at least the IIIs have 50mm guns), with three armor leaders. On the first turn, the British get a pair of Grants, a pair of Crusaders, and a Stuart as reinforcements (with an AL of their own). The Germans have eight and a half turns to take control of all three hillock summits without taking five more CVP than the British.
Complicating all of this is a sandstorm that has blown in. This is heavy wind from the southwest with heavy dust. This adds a +1 to dice rolls for every two hexes of range (fractions round up), an additional die is rolled in every attack and divided in half to generate an additional modifier (fractions round down, so it's from +0 to +3, with +1 or +2 most likely), and fire into the wind gets an extra +1.
One long, skinny hillock and one small one are near each other on board 28. Board 27 has a large, rounder one just a little further away (especially by distance to the summits). So I kind of figured Patch would go after the north two first, and and set up for the third to be my 'final defense' with the ATG in a pocket on one side of the hillock with a MTR and the HMG nearby. This put most of my ROF in a small area, with the ATRs in positions that he should have to go through earlier.
So Patch set up to crawl along the southern edge and force me to fire into the wind for the extra +1. The Germans are basically one giant sixteen-vehicle platoon until they come into LOS of a British unit (which isn't until range 10 with all the dust).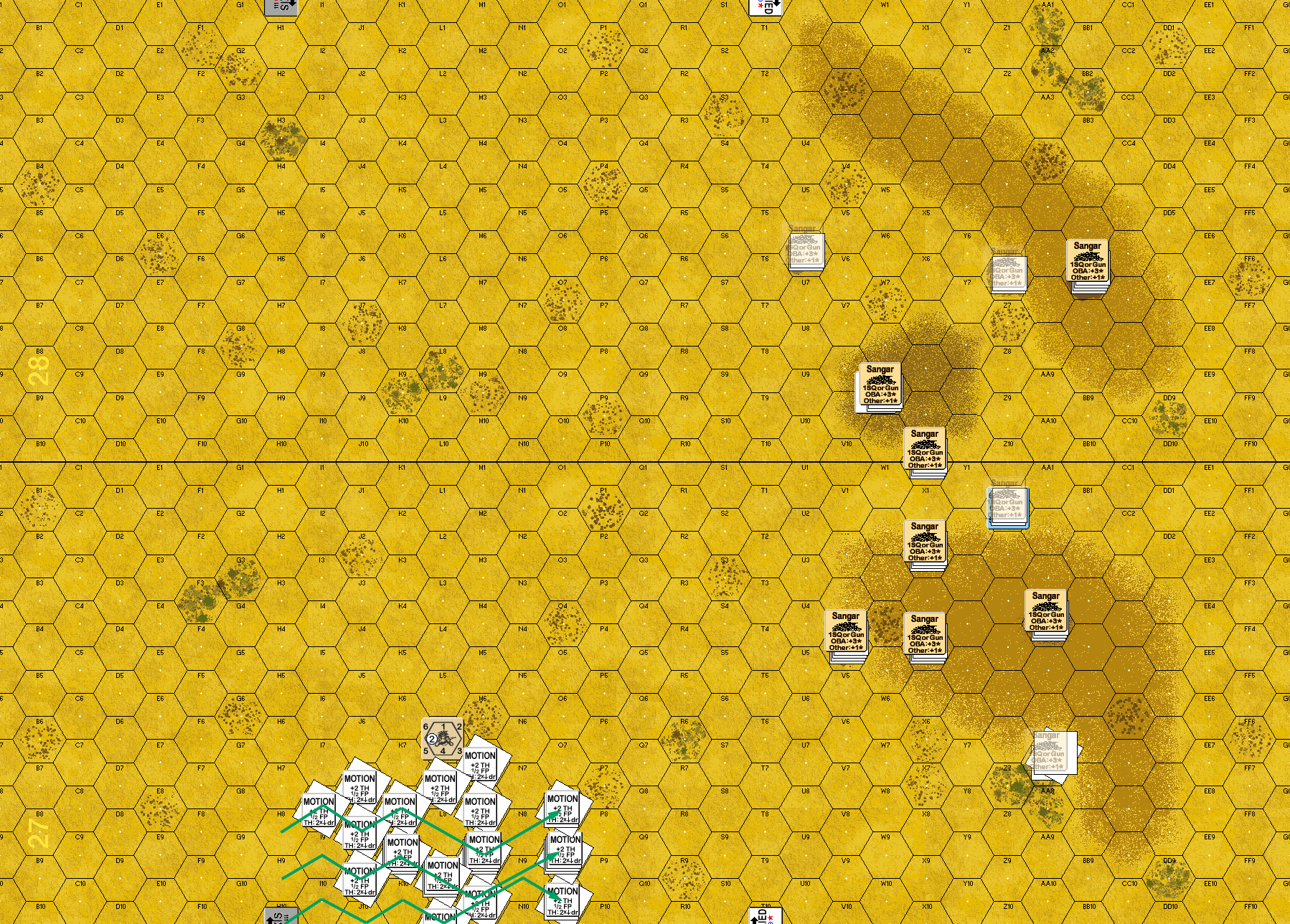 Situation, German Turn 1, showing the full board. My HIP units are visible to show the entire layout. The German mass started breaking up from speed differences.
↓ Read the rest of this entry…