on
August 15, 2022
at
12:00 pm
After warming up with Sumer, Mark and I went for a second battle in Chariots of Fire. Mark's initial thought was to get straight into the chariots with Megiddo, but it's a much larger scenario, and we switched to Sekmem, which turned out to be a good choice. It was more interesting than it looked, is only moderately bigger than Sumer, with two wings per side (melee and missile), and gave us good infantry tactics practice, and let us clear up more of the rules.
Mark had the Egyptians who have a much larger force of shock infantry, and start by entering the far edge of the map. The Canaanites all start in the walled city of Sekmem (any number of units can be in a city hex here, and it's also where they go when routed). The map is basically a broad valley, with the north and south edges rising up through levels 1-4, all of which are considered rough terrain.
The Egyptians had the initiative for the first turn, and came in with their shock infantry filling the south side of the valley, with the missile troops (all bows) following behind. Then my light infantry poured out of the city, forming up four deep in places because of a lack of room to maneuver from a single hex in one activation. Mark moved the SI up with his momentum (we still hadn't noted the cohesion hit this causes), and finally my SI filed out of the city in column, and piled up on the southern side of the valley.
I got the initiative for turn 2, and sent my shock wing forward, getting a little in front of the missile troops and starting to come out of column. The Egyptian line got to ~5+ hex range as they got their chit next, and then the Canaanite LI shook its line out with the bowmen right behind the slingers. My momentum came next, but Mark successfully trumped it to get his shock wing into contact (at this point we had noticed the cohesion hit on shock and heavy infantry that moves more than once a turn). Thankfully, I had two shots at most of his units, as they came adjacent to two different slingers, because I had a lot of high rolls, with two units going to low ammo, and one entirely out of ammo, but seven of his shock infantry were now at two cohesion hits (so a well-distributed one hit each after the penalty for moving twice).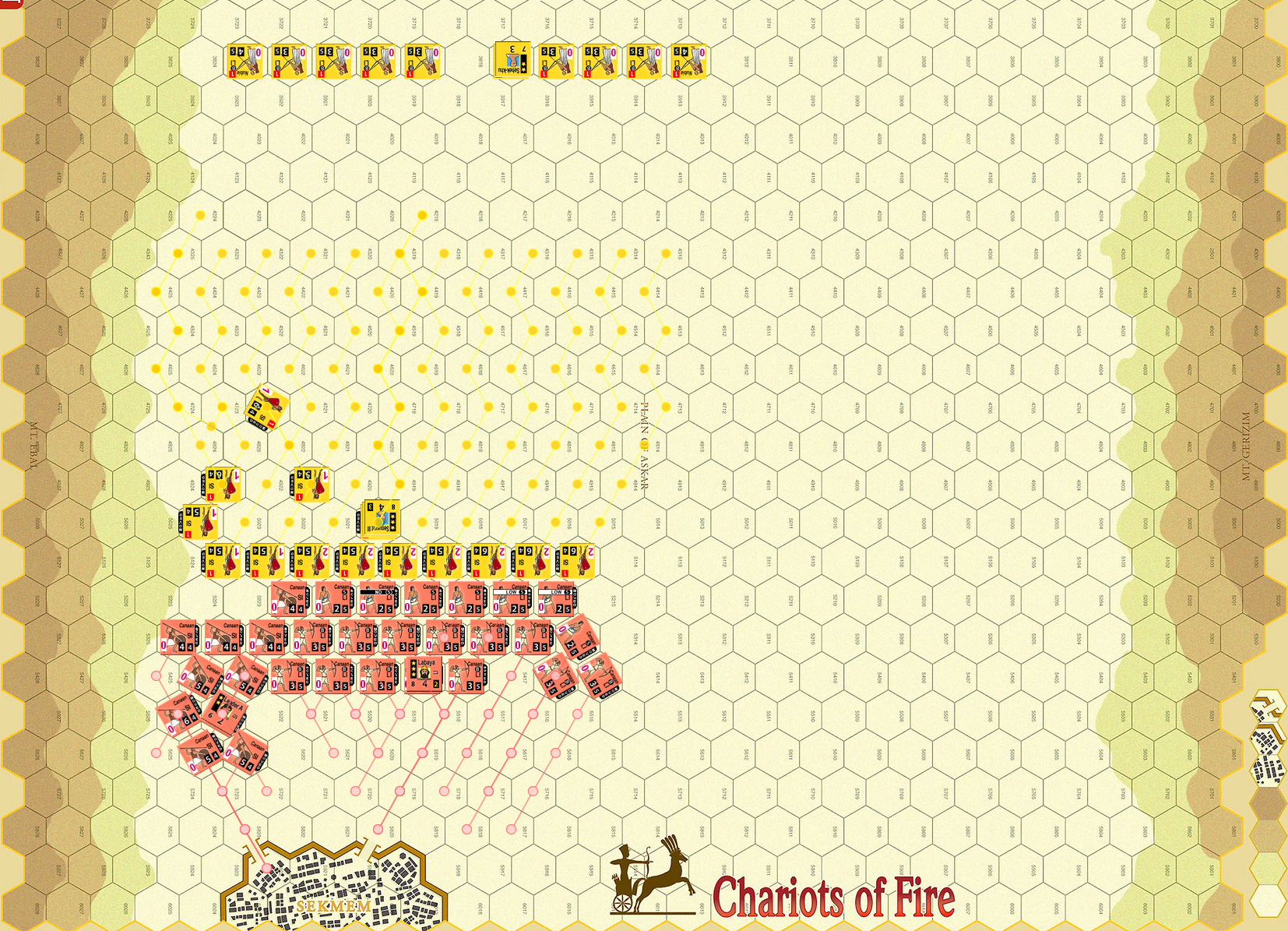 ↓ Read the rest of this entry…