on
March 13, 2014
at
10:15 pm
At the moment, Patch and I seem to be alternating between Budapest and the desert for ASL scenarios. We decided to give ASL Annual '92's "…And Here We Damned Well Stay" a spin. I had the Brits again, but at least I had a static defense this time. The scenario is a bit controversial, with a debate between playtest groups being printed in the Annual.
Certainly, with the British defense resting heavily on a number of ROF 3 guns vs a large number of German tanks, there is no way for it not to depend on the dice. The British are a small force of six squads (with a MTR, ATR and three MGs) and three 57mm ATGs directly in the path of an advance by fifteen PzIIIs (a mix of III Ls, III Js and III Hs; presumably because of counter limits) with two armor leaders. The Germans need to get past the British positions, and several patches of sand and sand dunes, and end a Game Turn with two operational tanks there per surviving British gun. Complicating the defense, the Brits are under Ammo Shortage and moderate dust is in effect, which adds an extra 1d3 DRM to each attack. On the other hand, all the infantry gets to set up in foxholes and HIP as long as they're in sand hexes.
We both looked at the article, and my defense was largely patterned off of it—I reshuffled the troops, but left the three 57mm guns in place, as the positions are just so logical. I was generally thinking in terms of Patch taking a southerly route through what seemed the biggest gaps in the sand. The ATR went down there, with one of the ATG boresights at the entrance to that path, with another placed a bit south of the hillock. The third went just north of the hillock, with the MTR boresighted on the hillock to aid in getting smoke in there if anyone tried engaging Hull Down behind the hillock.
Naturally, Patch lined everyone up along the extreme north end of the board.
Once the initial wave was on, I decided to start taking ranging shots to try and get a lucky hit that would park a wreck in the middle of his line of advance. But my second shot malfunctioned the southernmost gun. Not only was this bad for me, but Patch suddenly was tempted to go for the south route, away from the still-functioning guns. This sent a tank right over the boresight for my northern gun, but even with that aid, I couldn't hit with poor dice and lots of dust hindrance.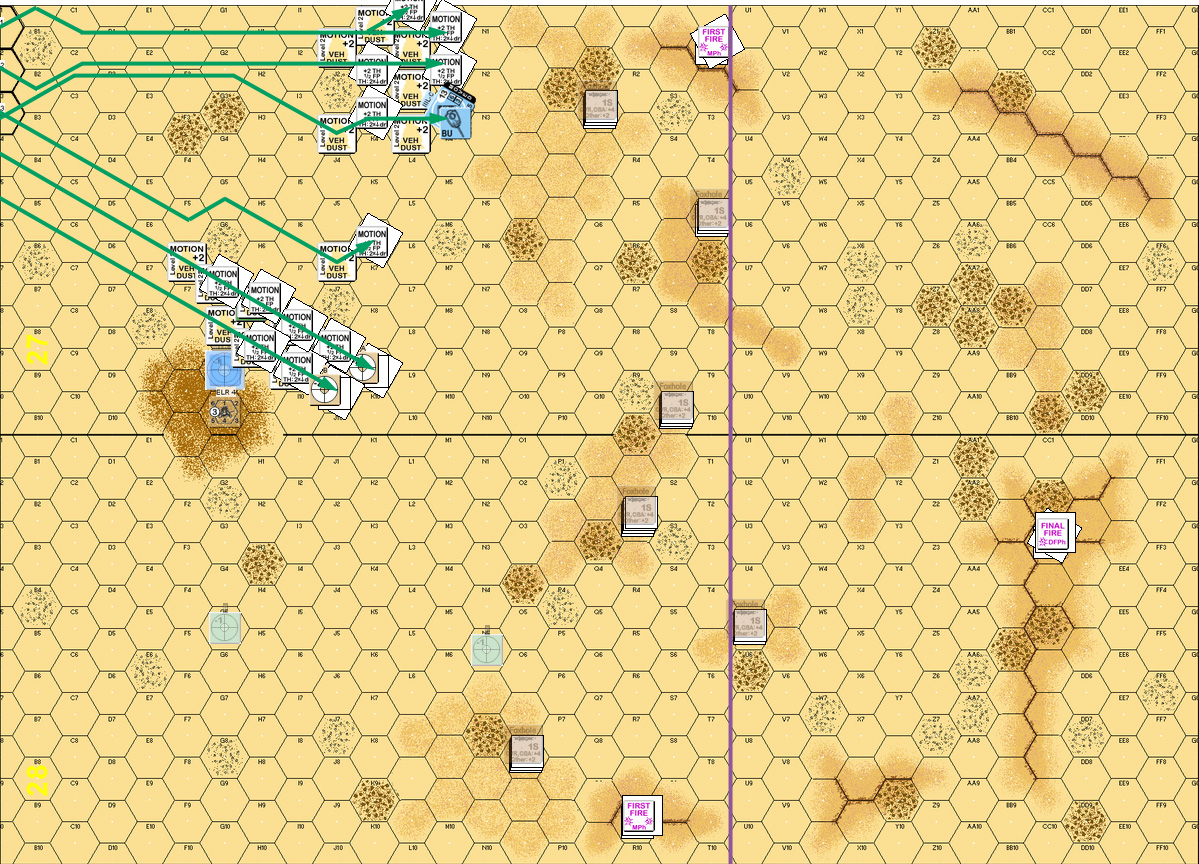 Situation, German Turn 1, full board. My HIP units and boresighting are visible to show the general defenses. The purple line is the German goal.
↓ Read the rest of this entry…