on
February 14, 2022
at
12:00 pm
As a part of Mark and I's cycle of lighter game playing, we went back to GEV last November, and tried out the scenario "The Train". I don't think it held enough interest for me to try it back in the day, though I remember some of the others in the group mentioning they tried it; I can't remember what they said about it. The main goal is to stop a train from crossing from the west side of the GEV map to the other, with it arriving sometime between turns 4 to 8, while superior Combine forces start on the 'island'. That's  in addition to the normal VPs, and you can sacrifice armor units to arm the train (which neither of us did), and the Paneurope defender can loose points for blowing the main river bridge.
I got the first go with the attacking Combine forces, and took ten GEVs, plus four light tanks, two heavies and a mobile howitzer, plus two more GEVs and a superheavy as the turn 2 reinforcements. Mark set up a light screen of infantry, with six GEVs on the road network, backed up by a couple light GEVs, a missile tank, and two howitzers. The first turn was occupied simply with getting across the river and establishing a proper bridgehead, taking out a pair of infantry squads in the process. Mark split up his infantry for dispersed defense and reshuffled his armor.
I went up to the limits of howizter range, knocked out two more squads, and disabled a GEV with the mobile howitzer. Mark reshuffled the infantry, and the GEVs largely pulled back to the area between the two howitzers. I moved forward, leading with a heavy tank overrun in the central city to kill the one infantry there. Then I stacked everything else I could in the city hex, while moving up the GEVs. I picked off another four squads of infantry and the disabled GEV. Sadly, the spillover wrecked the 1508 city hex, cutting the road there.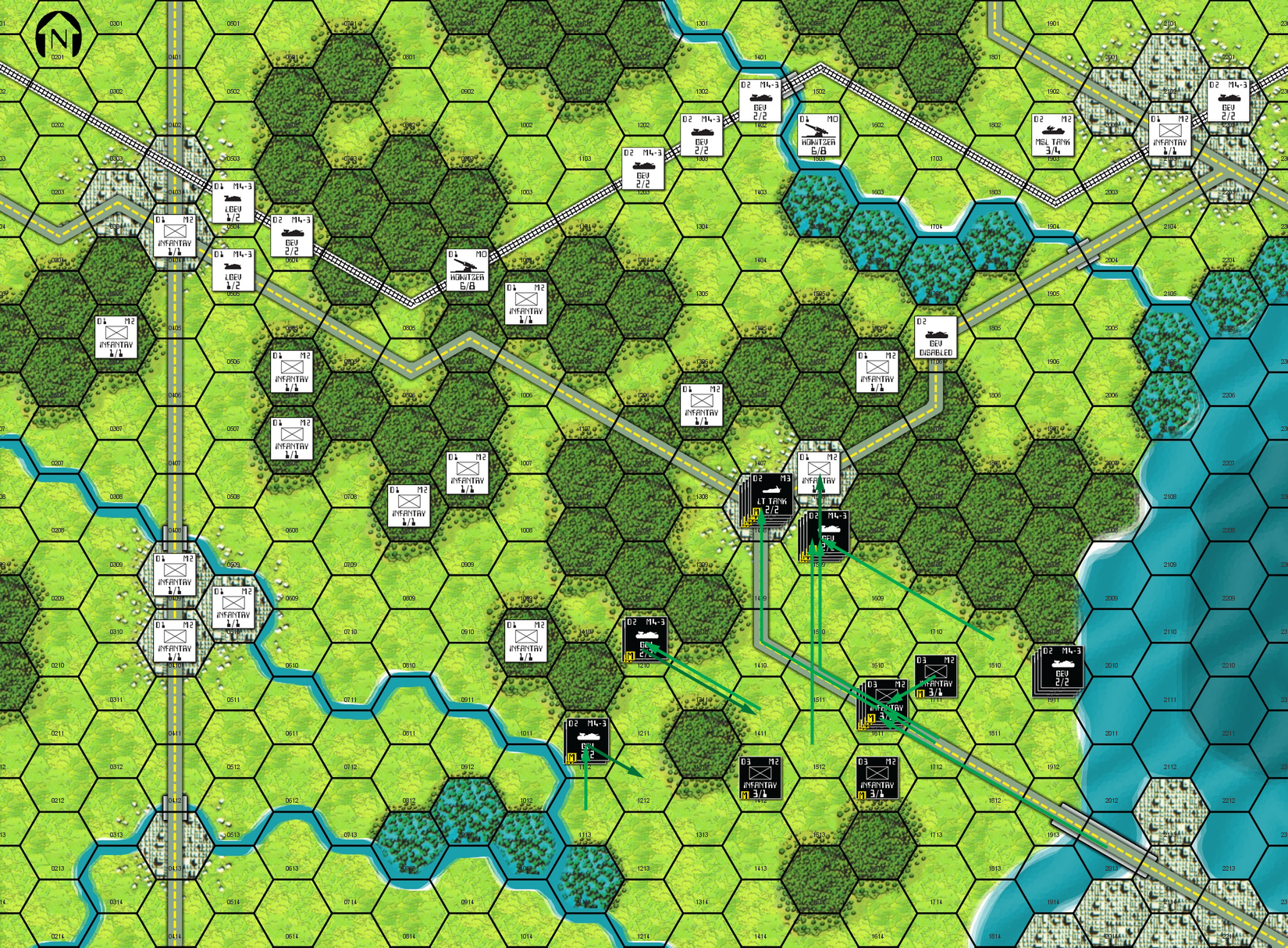 ↓ Read the rest of this entry…