2021 In Review
on
January 1, 2022
at
12:00 pm
Well, overall, I certainly need to rate this year as better than the previous one, just like nearly everyone else in the world. However, I do have a self-made problem or two.
The problem I've given myself is a lack of free time. Over the past several years, there has been the idea to republish my dad's old wargame magazine in PDF. Several months ago, I finally had a thought on how to do it the way I wanted (as searchable PDFs) with my current software, and away I went. At the moment, I'm putting out an issue every month, and am struggling to keep myself on track with that schedule. Since it was a bimonthly magazine that he ran for about ten years, my monthly schedule means this is about a five-year project, that I am now about six months into….
During my annual trip to see my parents, we poked around a bit and dug up a few other materials from back then. The main goal was the issues that I didn't have personal copies of, but I have borrowed a couple of the old catalogs, which I plan on putting out just to show what sorts of things were available to wargamers in the early '70s, a… nearly complete run of Lowrys Guidon, which was a mini-zine which would have become a real magazine in a couple of years if Panzerfaust hadn't happened, and a few other bits.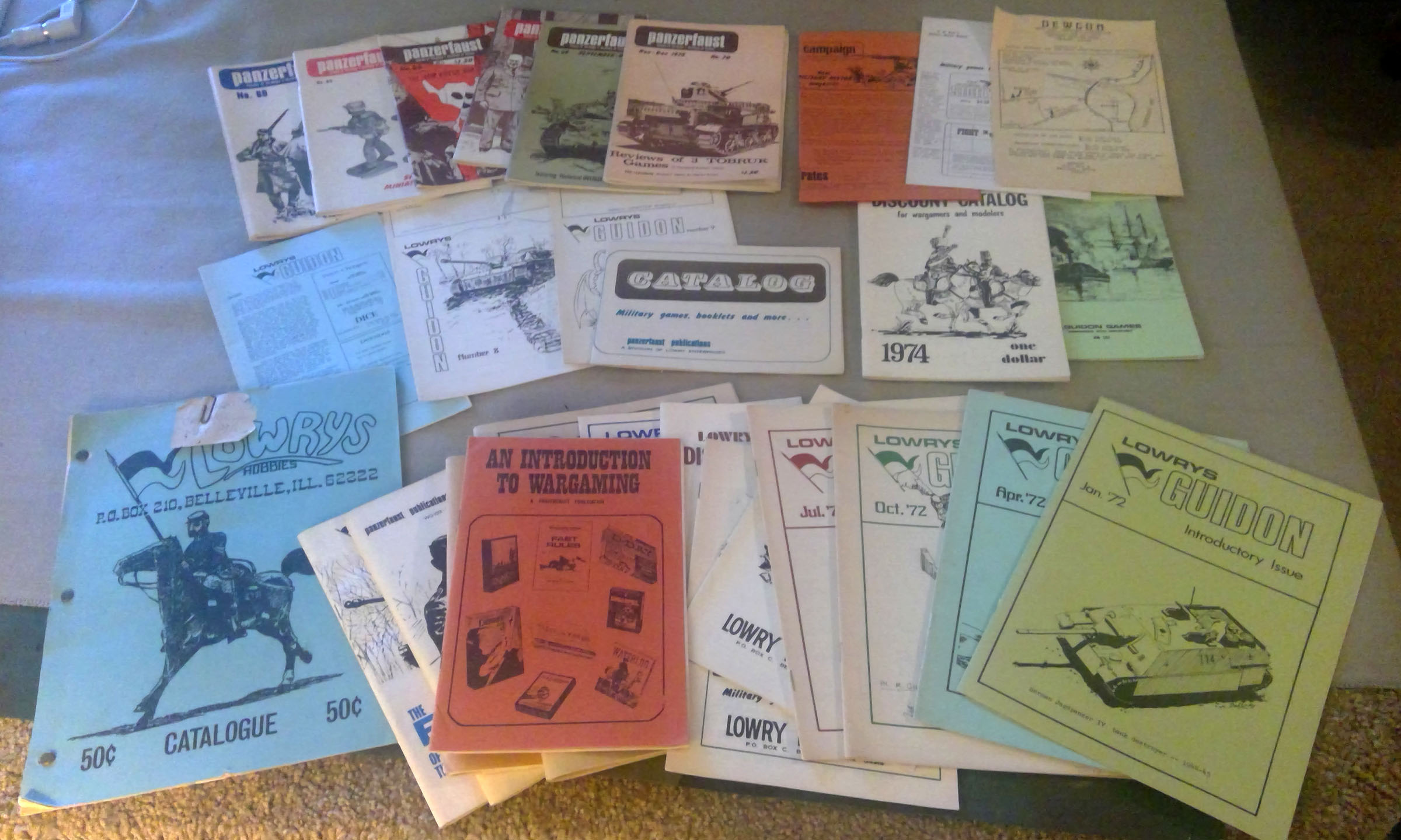 Also, I've got a fairly full gaming schedule. I'm currently gaming with Mark over Vassal both Saturday and Sunday mornings, as well as doing ASL with him Monday evening, gaming with Patch on Wednesday evenings, and playing Stellaris with my Dad on Fridays. This chews up a lot of the rest of my free time.
So, currently, I've got about seven Vassal games I need to write up, and a couple of face-to-face games here to write up. So, there's a backlog of content for the blog, and all the gaming is providing more faster than I'm currently writing it, but the lack of free time, is why it's building up. I expect this coming year will be dominated by my struggles to keep both going for me.
My gaming also includes plenty of time with Smudge in Final Fantasy XIV. We're currently semi-early in the story for Endwalker, and streaming a fair amount of our adventures with it on Twitch. I will have to find time here to write up my thoughts on that here too.
And to go with all this gaming, there has of course been new games purchased. Thankfully, nowhere near as much as last year. I've been aware of Root, and the production values on it are really good (almost as much paper in there as a big GMT game…), and I really need to get Atlanta to the table soon. Mark and were recently talking, and we have managed to try a fair number of new games over the year. The overall low-light has been Undaunted: North Africa; I need to try it some more (it's not actually bad, just not as good as everything else), but there is a disconnect in scale that's rubbing me the wrong way. It seems the scale is different in the original Normandy set, so that might do better with me. High-light of the year goes to The U.S. Civil War, which is a very well done strategic-level ACW game. Normandy '44 gets honorable mention here, which shows that Mark Simonitch really can design good games.
I have also been going into amateur game design. Last year, I did an extensive re-write of a SFB campaign, and Mark and I have just started going through a game on my rules. I also pondered a concept for a second campaign (my idea from the ground up), and have put together some notes towards developing that. I also brushed off my 25-year-old JumpWar design this year and did a rewrite that I've done some testing on. I hope to get some more done this year. And I've got two more ideas in the brainstorm stage. One is a tactical combat framework that started off as an effort to fix Up Front and Great War Commander, but morphed into an attempt to fix East Front Tank Leader and Panzer. The other is a game on exploring space beyond the frontier of an expanding SF civilization (think Source of the Nile in space—or don't—it won't share any mechanics with it). Hopefully, I'll find time to do more with at least a couple of these ideas.
I lowered my reading goal for this year… and I'm still a couple books short. Some of that is being busy these last six months, some of that is just the dropoff in my reading thanks to altered life schedules. Still, it's been a pretty good year, book-wise; I don't think I came across anything bad or disappointing. Sumption's history of the Hundred Years War is one of the highlights, and I just got the second volume for Christmas, so I'll be back into that soon. Past that, Antipater's Dynasty and Phantom Terror were very good history books, along with Morris' The Norman Conquest. I finally tried out Brian Sanderson, and he does indeed do well in the fantasy genre. I'm currently reading Leviathan Wakes, the first book from The Expanse, and it is being very good, and not what I had expected.
The sad news is that two days ago, Smudge's dad passed away. He had a serious stroke a few years back, and never properly recovered, and has been declining ever since. We went up to see him just before Christmas, and he was certainly happy to see us all. We went up again yesterday to visit her mom, and keep her company for the day.
That aside, it's been a reasonably good year here, and an improvement over 2020. Hopefully, I can find the willpower to keep on with Panzerfaust and the blog without falling down too much on either. If all goes according to plan, I'll release #71 in December, which is the name change to Panzerfaust and Campaign.